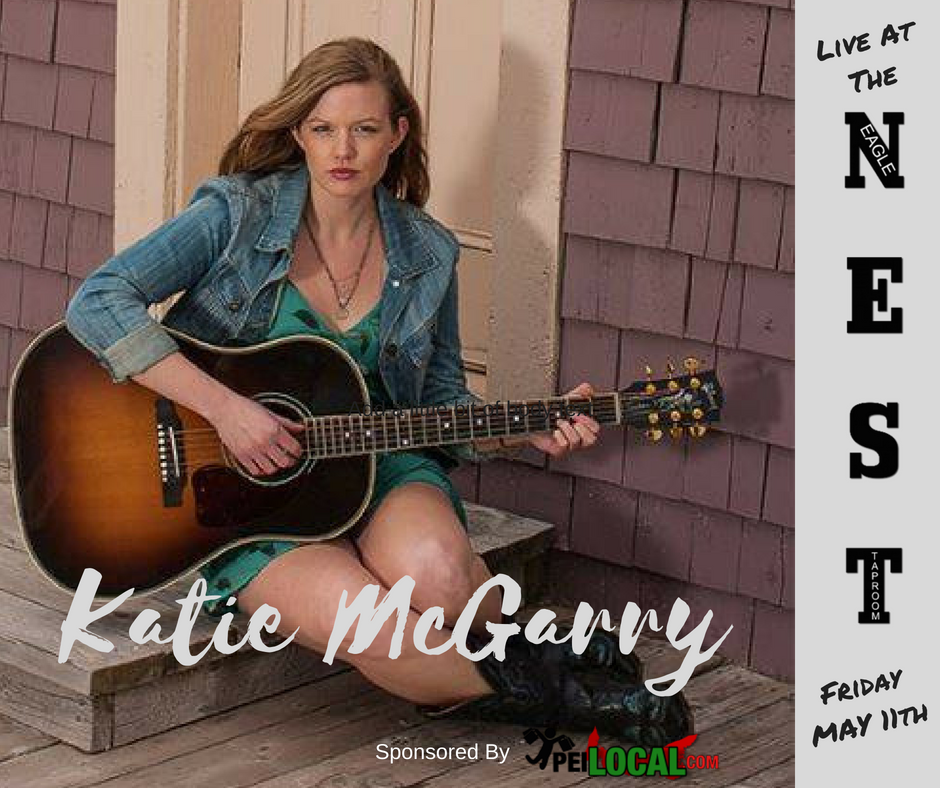 Live this Friday May 11th at The Eagle Nest
Eagle Nest is a house style concert venue for local and emerging artists. Our cozy setting can accommodate up to 50 people in an open round roof setting
Katie McGarry Biography
Katie McGarry is a soulful country-folk singer-songwriter with a knack for composing captivating songs about life, love and heartbreak.  She possesses a timeless vocal sound that washes over her compelling melodies and sincere, mature and relatable lyrics.
Her lifelong passion for music was forged by the age of six when she began playing piano; by the age of ten she already had her mind made up to learn to play the guitar.  
Katie played all through her youth ad began playing at the UPEI Open Mic Series and was soon playing local hotspots such as Babas, Hunters, the Gahan House and Fishbones. She has participated in the Home Routes program and toured the country. Her first album, My Side of Town, produced by well-known Island singer-songwriter, Dennis Ellsworth and released in 2010, was nominated for two Music PEI awards and she was the 2011 Music PEI recipient of the Lynn Grishko Bursary, awarded annually to a deserving emerging female singer-songwriter from PEI.  
Eager to further develop her musical career, Katie and fellow musician, Dan Currie, travelled to the epicentre of country and bluegrass music, Nashville, Tennessee, in September, 2012, for a week-long performance seminar hosted by well-known live performance producer, Tom Jackson. While in Nashville, Katie visited the Grand Old Opry and experienced live performances by Loretta Lynn and Miranda Lambert.  
Over the course of time, Katie has shared the stage with prominent Island musicians Dennis Ellsworth, Ashley Condon, Scott MacKay and Meaghan Blanchard and has also performed with Gordie Sampson (of Carrie Underwood fame) at PEI's Festival of Small Halls.  
Katie has since completed a second album, Waiting On.  Producing it herself, with assistance from Dan Currie and Jon Matthews (The Sound Mill Studio) it has received four 2015 Music PEI Award nominations, including Songwriter of the Year and Album of the Year.  In addition to this, Katie took home the award for Country Recording of the Year at the Annual Music PEI Country Jubilee and was also one of six finalists in the 2015 CCMA Discovery Atlantic Program.
Katie describes her musical style as a sort of country Americana that embraces the genres of soul, rock and especially bluegrass, the influences of which can be heard in the instruments such as Dobro, mandolin, lap steel and acoustic guitars in her music.
Katie's future goals include continuing to make great albums and eventually to produce other artists' albums. She continually strives to develop into a better songwriter-performer-producer and would like to one day write songs that are performed by major country artists – just like Gordie Sampson did for Carrie Underwood.
Copies of Katie's albums will be available for purchase and signing following her performance Live in the Nest, on May 11.