We couldn't be more pleased to bring you our fabulous, new local business directory.
Google has fully rolled out the second version of the mobile-friendly update in May of this year. Google Webmaster Trends Analyst John Mueller announced it  on Twitter, saying, "The mobile changes mentioned here are now fully rolled out."
Google gave a heads-up in March that they are preparing to boost the mobile-friendly algorithm in May, and clearly, that has finished rolling out.
This technically is supposed to "increase the effect of the [mobile-friendly] ranking signal." As was reported in March, Google said if you are already mobile-friendly, you do not have to worry, because "you will not be impacted by this update."
Many businesses have seen ranking and traffic changes from Google's mobile search results to their site since May due to this update.
So of course we set out to build the most efficient directory , with the latest technologies available to us to bring your business to the world wide web  fully optimized to mobile devices. With this new roll out we also added radius search tools and satelite map imagery . This enables searchers the ability to search close to their location by a handy slide tool and while looking at your location on the map hit satellite view and bring in an actual street view image of your business, all from your listing on PEILOCAL ! Very exciting indeed.
For years some of our members have been requesting back end access to their own listing to update images, hours of business etc. Well…. we heard you and are pleased to announce that even though we will continue to manage updates on your listing within your membership you can , if you like, create an account and have editing access to your own listing. What a great way to keep your local listing current ! To complete this simple create an account and we will match the listing that matches your email and presto you have real time editing ability !
We are so proud of our mobile friendly directory for local business! Google calls us awesome !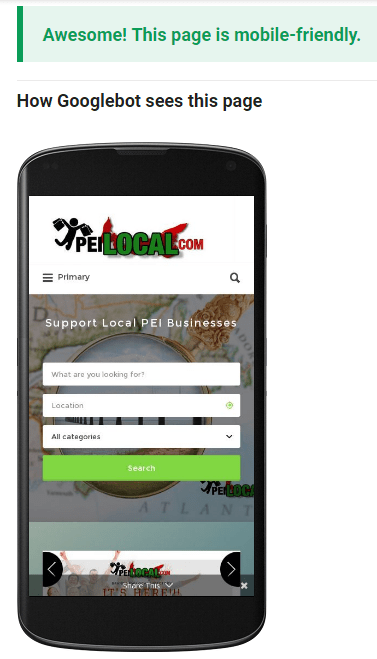 Why not give your own website a try and see if you are optimized as well
I do recommend you check Google's mobile guidelines. It is never too late to benefit from this mobile-friendly algorithm; it is real-time, based on how fast Google crawls your site.  Our team is available to you should you require any help or even a brand new optimized web site, just like us!
It is a fast paced world in marketing today and as always we are dedicated to staying on the leading edge of technology to make supporting local as simple as possible .
If you have any questions or need assistance with your listing you can easily reach our support team on our handy chat bubble on the right hand side of PEILOCAL.COM .
or you can always reach us by email at office@peilocal.ca or phone 902-700-5441
Thank you for all your support , we couldn't do it without you
Catherine/ PEILOCAL Proud