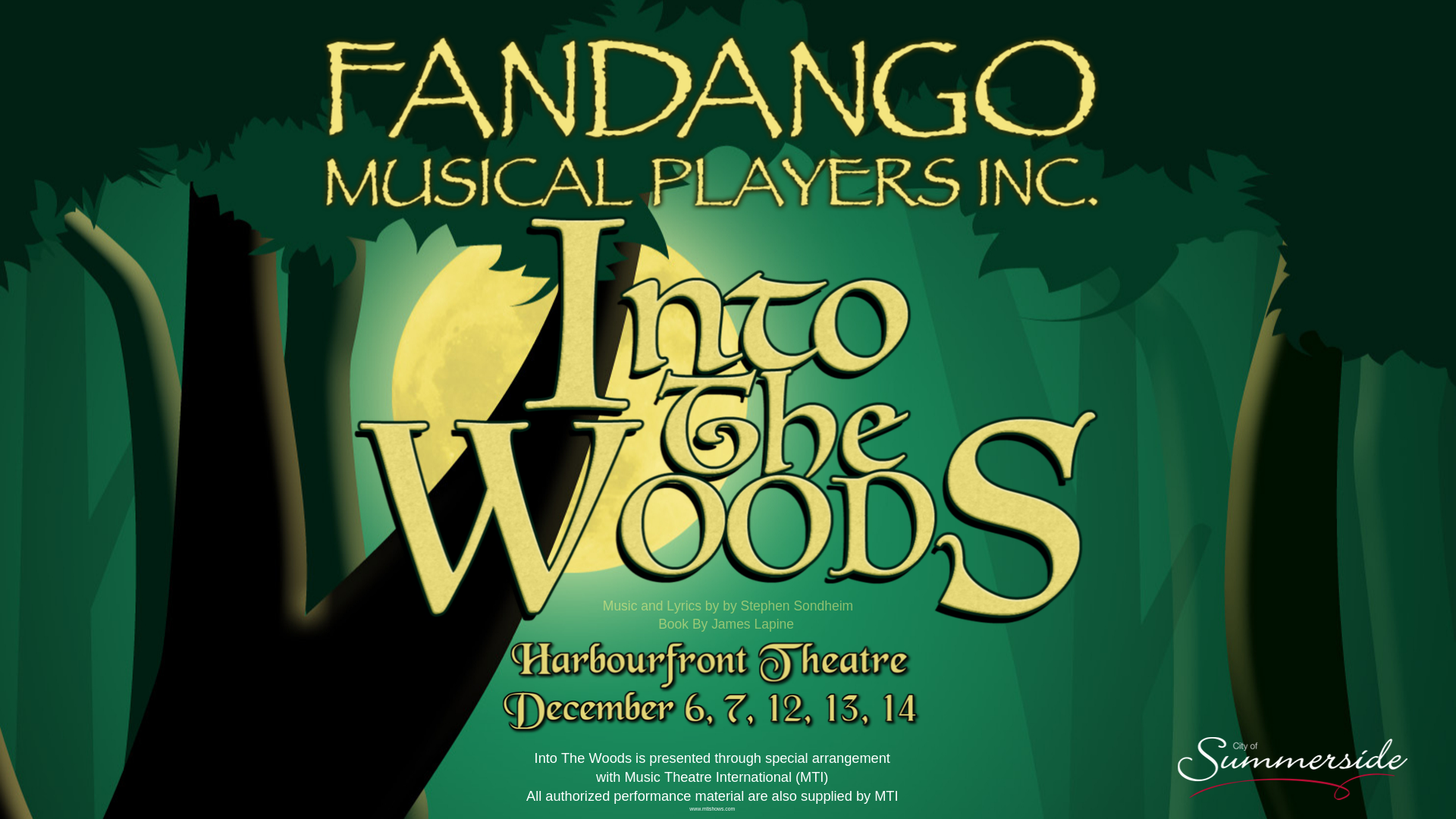 Fandango Musical Players presents
Into the Woods
Music and lyrics by Stephen Sondheim
Book by James Lapine
Fandango Musical Players Inc. presents Stephen Sondheim's  "Into The Woods" in
early December.
The fantasy musical weaves together fairy-tale figures who – through both
comedy and tragedy – are cursed and cured by journeying into the woods
where they must learn the responsibility that comes with getting your
wishes granted.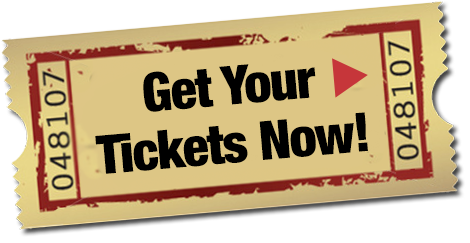 THE CAST/CREW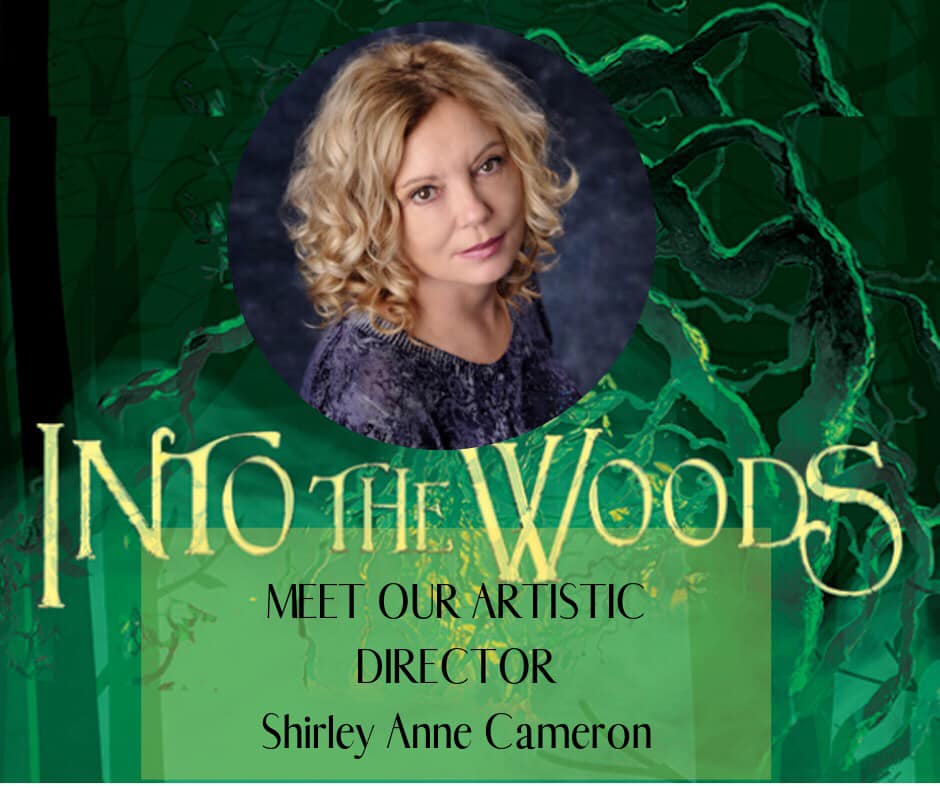 Artistic Director
SHIRLEY ANNE CAMERON
Shirley Anne Cameron is president and artistic director of Fandango Musical Players Inc. She is a professional musician with a degree in vocal arts. She has taught in the public school system for over twenty years- Music, English and Drama. She holds 3 degrees- Bach of Music, Bach of Education, and Masters of English.
Through her role in Fandango, she has lead the stage productions of 5 broadway musicals- "A Christmas Carol", "Jesus Christ Superstar", "Beauty and the Beast","Sister Act", and currently "Into the Woods". In addition to her teaching career, she has conducted two community choral groups on the Island and several school choral ensembles. She has taught private singing lessons in her vocal arts studio from which many of her students have gone on to successful study and careers in the performing arts. She has put countless musical theater productions on stage for hundreds of school students over the years. She has travelled to Europe, US and Canada with choral groups. Her choral groups have won significant recognition locally and provincially. She has sent choral groups to National Music Festivals. She has even sang for the President of the United States.
She spends her private time on the north shore of the Northumberland Strait with Christian and their beloved Standards, Hemingway and Holly.
The cast and crew of "Into The Woods" wish Shirl a great run and thank her for everything!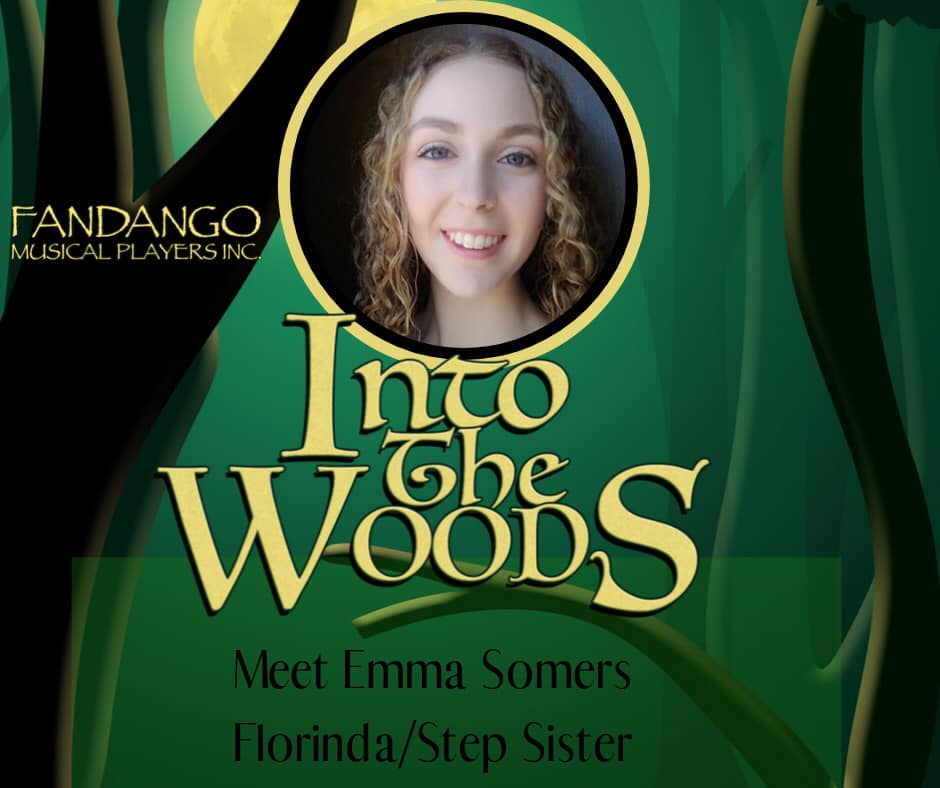 Emma Somers
"Florinda"/Dance Captain
Emma Somers is excited to be back for another Fandango production! She is a second-year nursing student at UPEI but has always had a love for musical theatre. One of Emma's lifelong passions has been dance, with experience in ballet, jazz, contemporary and tap at studios in PEI and Nova Scotia.
Her vocal training lies mainly within choral singing. Emma has previously been a part of the Truro Youth Singers, First Baptist Girls Choir, Three Oaks Choral Ensemble, Fandango Choir, Children's Chorus Nova Scotia. Currently, she's singing with Fandango Choir, UPEI Concert Choir and Ragazze.
Emma has been the artistic director for the Youth Theatre Ensemble for the last two years, a group awarded at provincial and regional festival levels both seasons. She co-lead and participated in two performances this summer with the newly-formed Red Island Theatre Ensemble.
Her past musical credits include "Seussical", the tile role in "Annie", Cogsworth in "Beauty and the Beast", Emily/Dancer/Chorus in Fandango's "A Christmas Carol", Mira in "The Theory of Relativity", and Nun/Waitress/Dancer in "Sister Act". In the spring, she choreographed for the dinner theatre "An Evening with Fandango", and appeared as Belle/Chorus for an evening.
Emma wants to thank her friends and family for their continual support and encouragement in her musical endeavors. Enjoy the show!
We wish you all the best Emma!!❤️❤️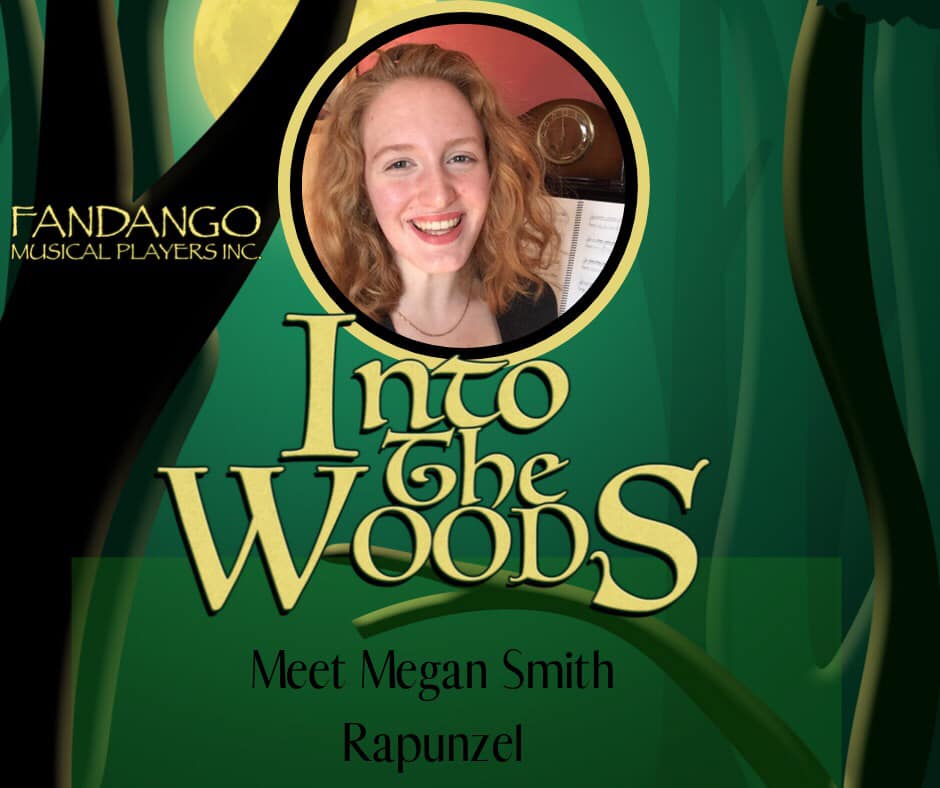 Megan Smith
"Rapunzel"
Megan Smith is in grade 12 at Three Oak Senior High. She participates in a lot of school-organized events, often helping with events such as relay for life and we scare world hunger. She currently works at the island stone pub and volunteers at her church.
In her spare time, Megan likes to stay moving. She loves running and exercising. Most of all, she loves cooking. Megan thinks one of the best ways to spend a Saturday is in the kitchen for an hour on end.
She has been a part of fandango productions for quite some time. She has participated in "Jesus Christ superstar", "Beauty and the Beast", "Christmas Carol", starred as Fiona in "Shrek the musical", as well as helping out backstage for last year's "Sister Act". Megan also is involved in a lot of other musical organizations. She regularly plays in her school band and sings in her school and church choir.
Megan will be playing Rapunzel in Fandango's production of "Into the Woods". She is super excited to be participating in this production alongside her family. With her stage mom being her actual mom, and getting to rehearse the play alongside her father, brother and sister, Megan could not be more excited.
We wish all of the best Megan! ❤️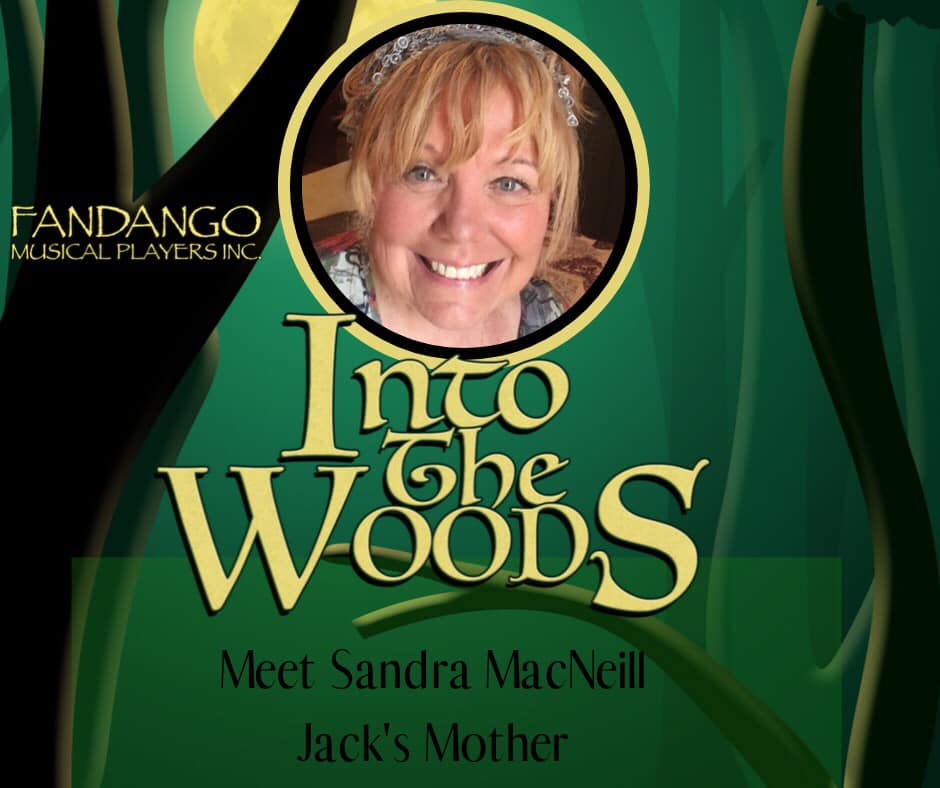 Sandra Mae McNeill
"Jack's Mother"
Sandra is a Founding Director of Fandango Choir and Fandango Musical Players Inc. She is the costumer for our shows and assists with fundraising, advertising and producing. She is extremely thankful for Volunteers within the Fandango Family who continue to support our choir and Musicals, you are the reason why! Her full time job outside of Fandango is contract title searching for law firms which she loves and keeps her very busy. She loves to sing and act and has been involved in choirs and musical theatre shows over the years. She sang with many choirs including the Gaelic group "Eilean" a favorite of hers. She was in three production of "Jesus Christ Superstar", ACT PEI and FMP, "Evita" ACT PEI, and Fandango Musical Players Productions;
Mrs. Potts "Beauty and the Beast", Mrs. Fezziwig "A Christmas Carol", Sister Mary Clarence "Sister Act" and now takes on the role of overworked, frazzled , and overwhelmed Jack's Mother In "Into The Woods".
Her interests include Broadway, having travelled to NYC 9 times, sewing, Reading pretty much anything and keeping active at Hustle and learning Spanish with her dear friends. She loves her community and would like to thank the City Of Summerside for giving Fandango huge amounts of support over the years , especially with "Into the Woods".
Sandra's biggest support in her life is her husband Robert and her 3 children Kathleen, Ian and David who tell her almost everyday "you can do this" and are behind her in everything she challenges herself with. Her absolute love for young people and helping them in any way keeps her young and inspired. She cares for and adores all animals, and is surrounded by her five beloved fur babes at home.
She thanks Shirley and Tanya and her friend Sue for all of their support and guidance.
"The biggest Adventure you Can Take Is Living the Life Of Your Dreams" Oprah ❤️
Let's do this!! ❤️❤️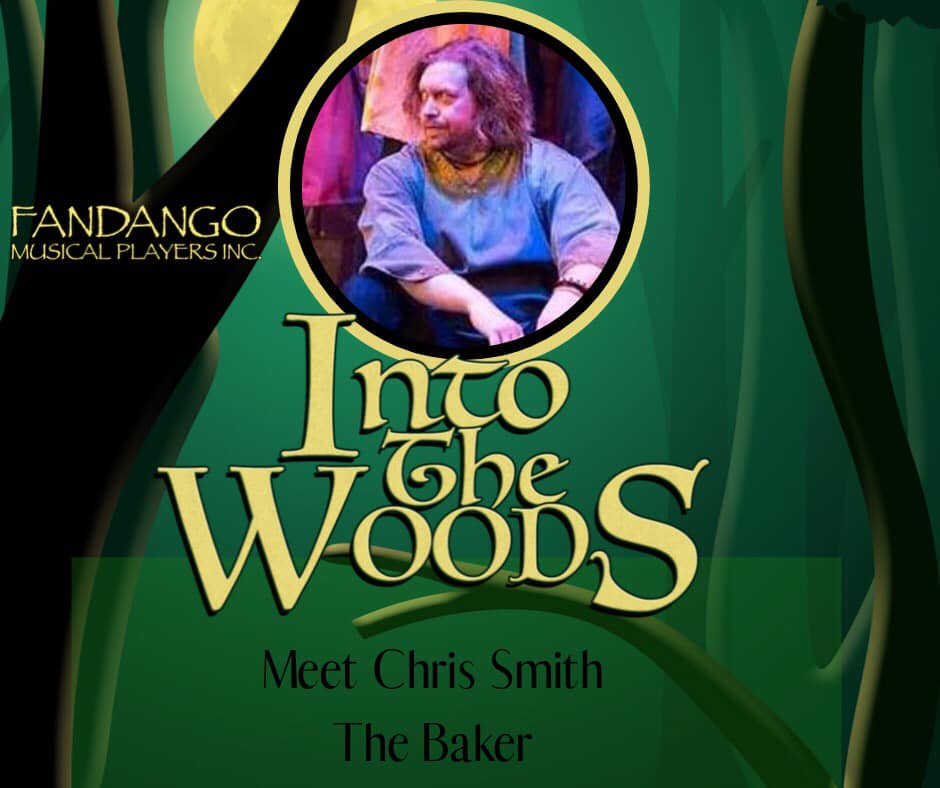 Chris Smith
"The Baker"
Chris Smith, a graduate of the University of Prince Edward Island Music Department, will be returning to the stage as "The Baker" in Fandango Musical Theatre's upcoming production of Into the Woods. Theatre audiences will remember Chris from his roles as "Scrooge" in A Christmas Carol – the Musical, and as "Judas" in Jesus Christ Superstar. Chris has performed all across Canada with the ECMA award winning instrumental group Este Mundo, including performances at the National Arts Centre in Ottawa. He was also the singer/guitar player for the rock group Seventh Stone, and the frontman/vocalist for the soul band Dry Toast. He is very excited to be able to share the stage with his talented wife, Claire Caseley Smith (The Witch), his daughters Megan (Rapunzel) and Emily (Little Red Riding Hood), and his son Brennan (Jack). His daughter Sky, who is taking a break from the stage, will cheer them all on from the audience. Into the Woods will be will be a family affair for the Smith clan, and Chris is excited to perform on the stage again.
We wish you all the Best Chris!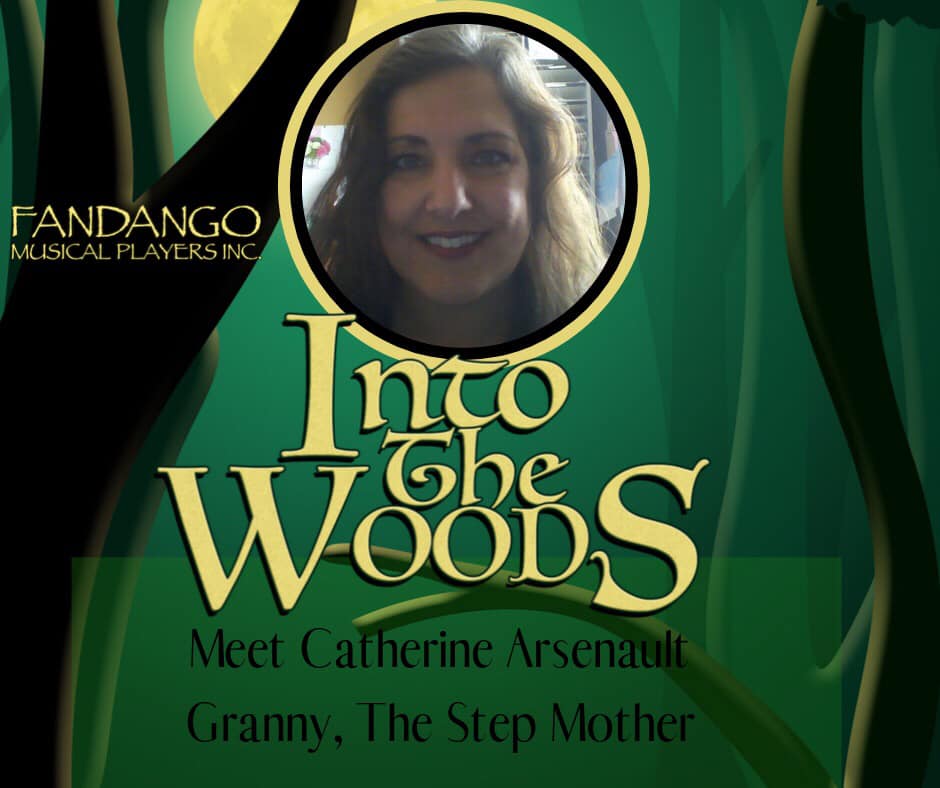 "Into The Woods"
Catherine Arsenault
"Cinderella's Step Mother"
"Granny"
Catherine Joined Fandango last year as Sister Mary Catherine and is so pleased to back this year in her roles as Granny and The Step Mother. You may have seen her in her most recent role as Peeka Boo Keefe in The Last Man in Summerside or as Cookie in Harbourfront Players , last production of Rumours. She was also cast as Jafar in Villains last year as well as Alice in the one night show Awake.She is an engaged member of the Fandango Choir as well and can strum a few songs on her guitar, if you ask nicely. She was very involved in both highland and step dancing as a child, but she says the dance steps in Into The Woods are proving to be quite challenging. With Catherine's commitment to this show she is sure to get the steps down.She spends her days promoting local PEI Businesses on PEILOCAL as well as in Nova Scotia with NSLOCAL.She has built the business from scratch and is always growing as a marketer, web designer and graphic designer as well as most recently server management. She has two children, two grand children and the wonderful support of her partner in life Layton.
All the best Catherine! ❤️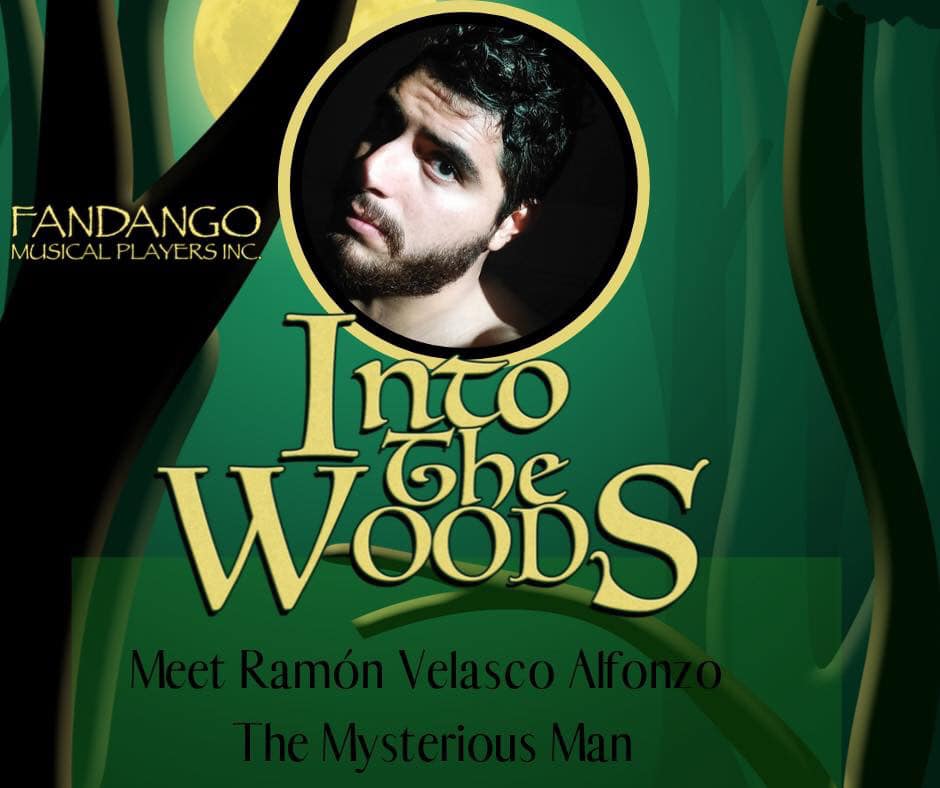 Ramón Velasco Alfonzo
"The Mysterious Man"
Ramón Velasco is a 26 year-old English teacher from Chiapas, Mexico. He came to PEI for the first time in 2017 and fell in love with the breathtaking scenery of the Island and its people, who have always made him feel at home. He has come back to the Island every summer since then and hopes that one day he'll get the chance to stay here for good.
Theater has always been one of his passions, being part of many high school productions back in the day in his country; he even wrote a musical called Amor A Primera Risa (Love At First Laugh) while in university. He joined FMP's production last year as the thug Pablo, one of the villains under Curtis's command in FMP "Sister Act", and can't wait for you to see him take on the role of the quite eccentric Mysterious Man in "Into The Woods"
We all love you very much and wish our wonderful Friend the very best❤️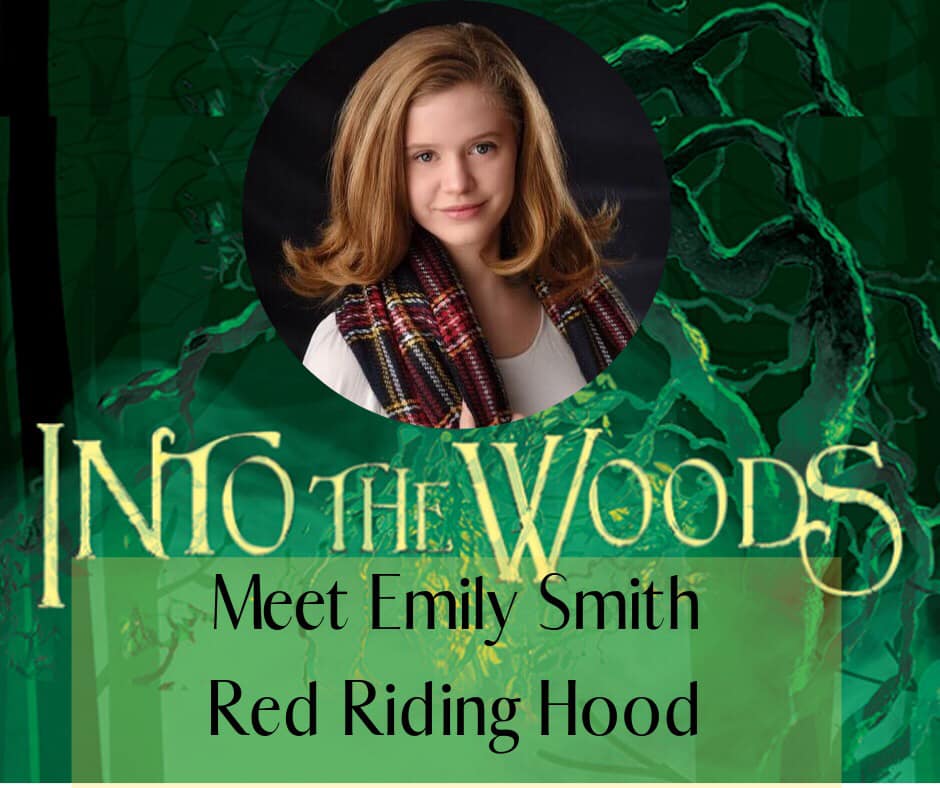 Emily Smith
"Red Riding Hood"
Emily Smith is a 15 year old actress from Kensington. She has done several shows throughout her young career, including being a part of the young company of "Anne and Gilbert" in 2019, lead roles as Sister Mary Robert in Fandango's "Sister Act ". (Celtic Performing Arts Center), Dorothy in "The Wizard of Oz" and Anna in "Frozen Jr" (Beaconsfield). She has also taken the stage as ensemble and background roles in Fandango Musical Players Inc. productions including "Jesus Christ Superstar", "Beauty and the Beast"and "A Christmas Carol". Emily also participated and studied at the National Theater School Drama Festival in 2017 and 2018. She has quite a bit of acting, singing and dancing training. In her downtime, she plays the ukulele and writes songs and poetry. She's delighted to take on the challenge of playing the mischievous Little Red in "Into The Woods" alongside her family and friends.
All the best to you Emily❤️
Maddy Macdonald
"Florinda"
Maddy MacDonald is 17 years old and a grade 12 student at Three Oaks Senior high School,
She has been involved in several musical theatre productions, "The Sound of Music" and "The Little Mermaid" both in French! And Fandango's production, "Beauty and the Beast" as the best fork and a villager, Three Oaks Sr High School Productions "The Theory of Relativity" as Jenny and
"Shrek the Musical" as Gingy.
One of Maddy's favourite interests lies in her Obsession with Broadway as she has seen multiple shows in NYC!! She loves Theatre and loves singing and is quite involved in Leadership!
After graduation her plans are to
Go to university and study to become a French teacher!!
Maddy is very excited to play Cinderella's cruel and wicked stepsister Florinda in FMP "Into The Woods"
We wish you all the best Maddy
❤️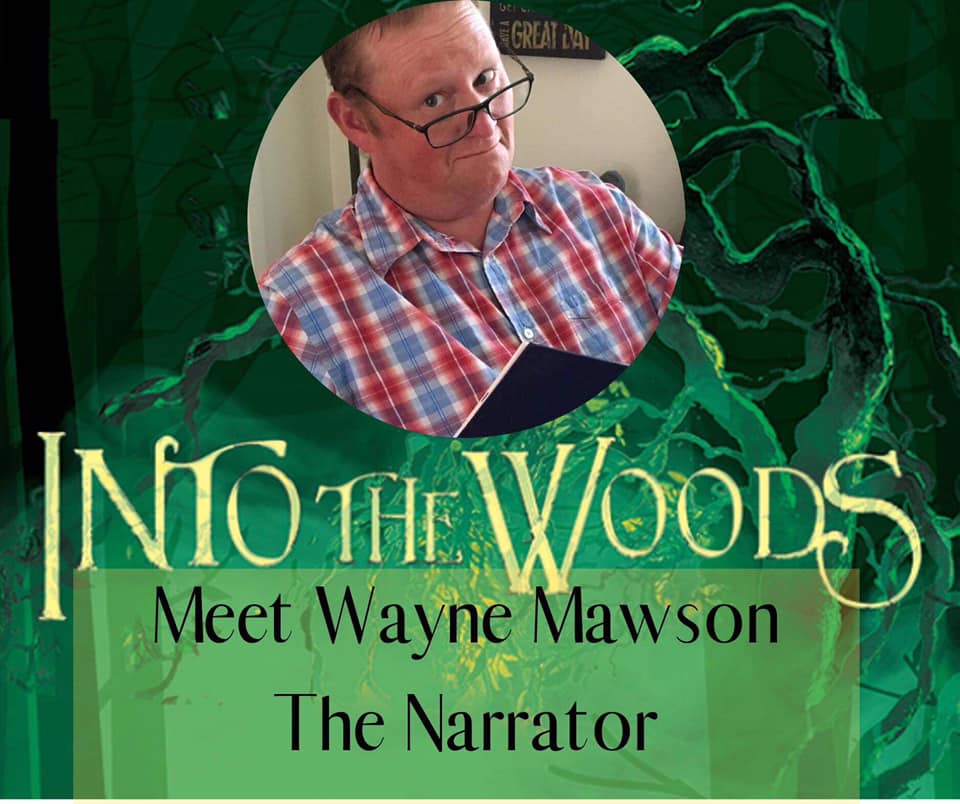 Wayne Mawson
"Narrator"
Wayne Mawson is a Truck driver who hails from Doncaster, South Yorkshire a small town in the UK.
He Moved to PEI in 2011 along with his wife Becky-louise, sons Jack (20), Oliver (15) and daughter Evie-grace (9) whom is also a FMP member.
After calling it quits on a long haul career with bulk carriers back in 2017 he decided to spend more time with his family and took a job on the Island that he and his family loves and is now a driver with ADL Foods.
Wayne has always loved music whether listening, playing or performing it has always been a passion of his.
So in January 2018 Wayne jumped at the opportunity to join the FMP family and has really found something he can enjoy and connect with and took his daughter Evie-grace along for the ride and he hasn't looked back since.
Wayne's first foray into acting was in fandango's production in 'sister act' last fall at the college of piping where he played Joey, the super sexy (as Joey would have you believe) henchman.
Earlier in 2019 Wayne co-wrote,directed and took part in 'An evening with fandango' a successful 2 night dinner theatre at the new London community complex.
Now Wayne is looking forward to playing his most challenging role to date in 'into the Woods' as the quirky and quintessential , 'Narrator'.
All the best Wayne!!! We love you! 🤗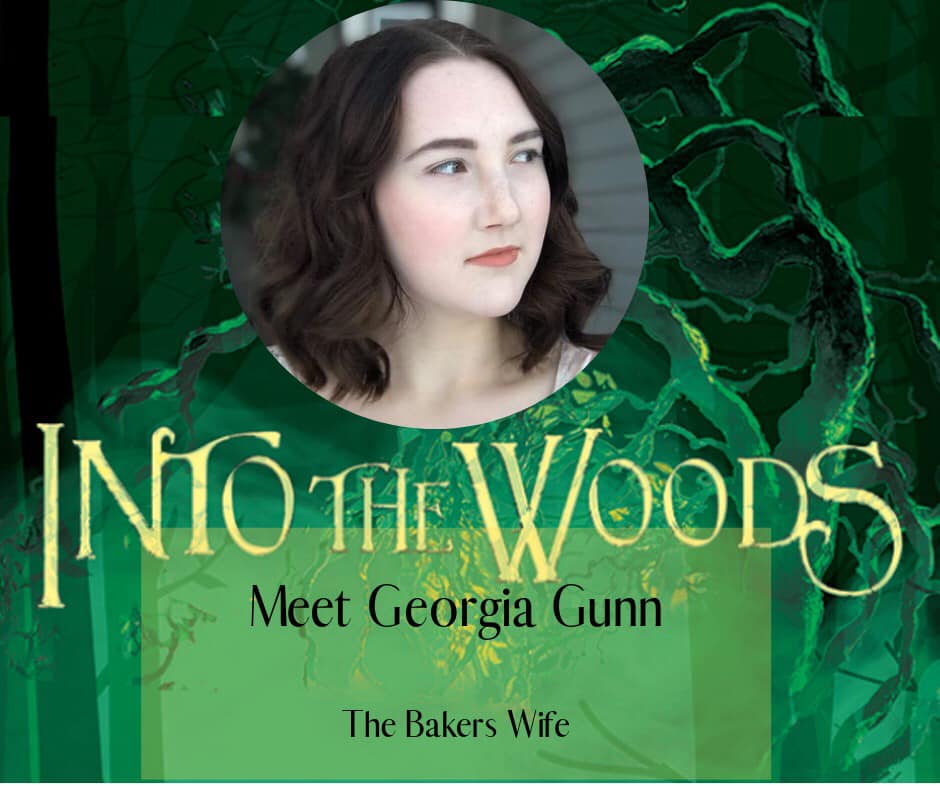 Georgia Gunn
"Bakers Wife"

Georgia Gunn was born and raised in Summerside. She graduated from Three Oaks Senior High and now attends the Holland College School of Performing Arts Theatre Program. Georgia has taken dance and voice lessons since she was a small child and quickly developed a love for musical theatre. In school, she performed in productions of "Seussical", "Shrek"and "The Theory of Relativity." For Fandango she has been in the ensemble of "Jesus Christ Superstar", a Silly Girl in "Beauty and the Beast", the Ghost of Christmas past in "A Christmas Carol" and most recently, Sister Mary Theresa in "Sister Act". "Into the Woods" is a personal favourite of Georgia's and she is excited to be playing the baker's wife. Georgia would like to thank Fandango for continuing to promote musical theatre in Summerside and allowing her to be a part of their wonderful shows.
Your Fandango Family wishes our super talented young lady all the Best!!!🤗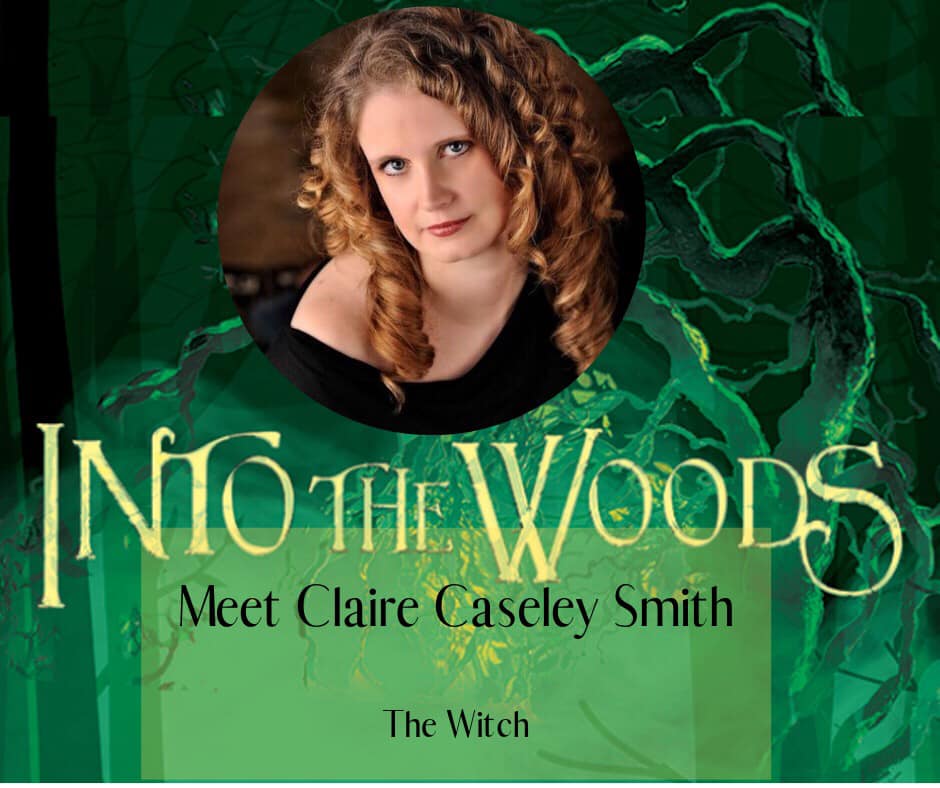 Claire Caseley Smith
"WITCH"
Claire Caseley Smith is thrilled to be joining Fandango again for another production. She has played a lot of the "good guys" on stage until now and is excited about delving into her dark side to play the Witch!
Claire received her Bachelor of Music, majoring in voice, from UPEI and has spent a lot of time on the stage. She played lead roles in ACT's productions of the Pirates of Penzance, The Mikado and the Blue Castle. She has also performed as a soloist on a variety of stages, including the Indian River Festival, and as a choir member in many choirs. She currently sings with her "singing sisters" in the vocal group Arioso, performing at many venues across PEI. She lives in Kensington with her talented husband, Chris, and her equally talented children, Sky, Megan, Emily and Brennan.
Claire first experienced Fandango's musicals as an audience member when she watched her husband and children on stage in "Jesus Christ Superstar" during the Summerside run. When they produced the show again in Charlottetown, she joined them on the stage in the chorus. She enjoyed it so much that she was delighted to be part of "Beauty and the Beast" with her children, while her husband took a turn sitting in the audience!! She took a break from the stage for Fandango's production of "A Christmas Carol" and clapped loudly for her husband and children as they performed on stage, then returned to the stage last year in the company's production of "Sister Act" as the rather pious Mother Superior.
This year, Claire is excited to stretch her acting muscles as she tackles the character of the Witch in "Into the Woods". She is also thrilled to be working again on stage with her husband, Chris, and three of her four very talented children.
We wish you all the best Claire!!
Kyra Doyle
"Milky White/Villager"
Kyra Doyle is very excited to be taking part in her first Fandango Musical Production! She will be taking on the role of a villager, as well as Milky White and she plans on making it legen-"dairy". Kyra has been a part of the Fandango choir for a few years and was also a member of the TOSH Choral Ensemble, both under the direction of Shirley Anne Cameron. When she's not studying for her nursing classes at UPEI, Kyra enjoys breaking out some nice dance "mooves" at cheerleading practice and playing volleyball. She has always had a passion for music and has been playing piano since she was 7 years old. She also taught herself how to play the guitar and the ukulele and enjoys singing in the shower. Kyra's prior (and only) credit includes playing a munchkin in a 2005 production of "The Wizard of Oz". Nevertheless, she is completely and "udderly" excited to be reprising her career as an actress and hopes that everyone enjoys the show!
We wish you all the best Kyra❤️🤗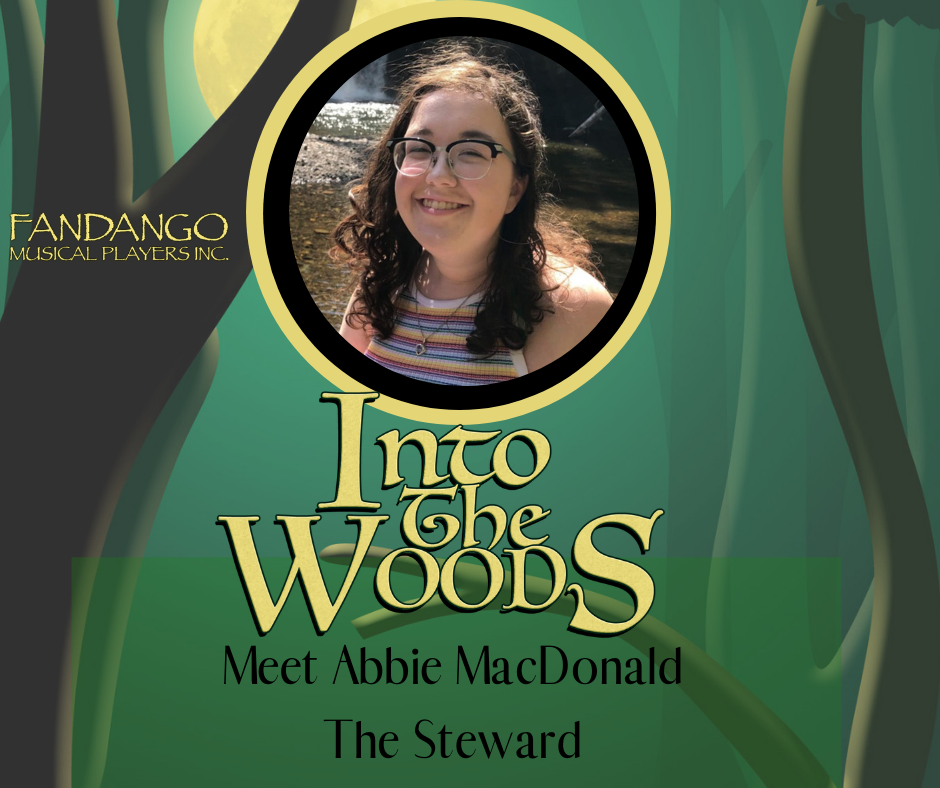 Abbie MacDonald
"The Steward"
Abbie MacDonald is a Three Oaks Senior High graduate and is currently in her third year as a chemistry student at the University of Prince Edward Island. Abbie has loved singing and music since a young age and has been signing along with the car radio since she could talk. She was a member of school choirs throughout the years, including the TOSH choral ensemble, and performed in a couple small plays as part of her high school drama class taught by Shirley Ann Cameron. Abbie has been a member of Fandango choir since the 11th grade but has taken a break over the last two years to focus on her studies. Abbie is very excited to be making her musical theatre debut this December in Fandango's production of Into the Woods as one of the prince's two stewards.
We wish you all the best Abbie❤️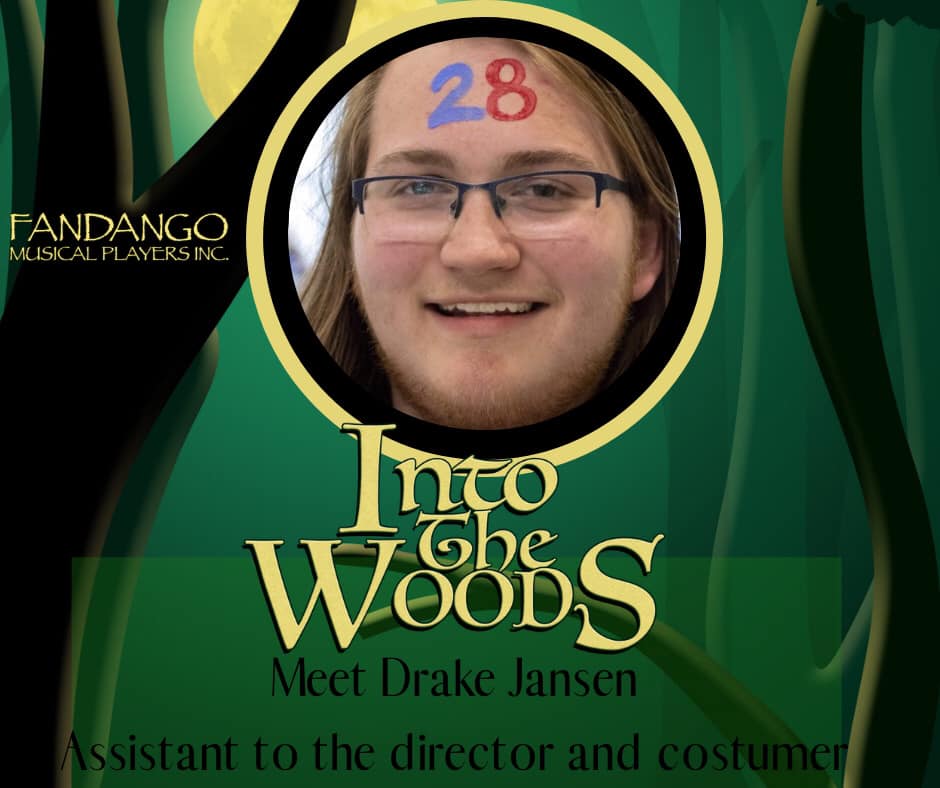 Drake Jansen
"Into The Woods"
Drake Jansen is a 1st year UPEI Student. Theatre is one of Drake's favourite things. His hobby is going to the local hockey games (Go caps! 🏒). Drake was a big part of Fandango's "Sister ACT" and "A Christmas Carol" as Wardrobe assistant in both shows, Three Oaks Senior High "Theory Of Relativity" as Assistant to the Director, Three Oaks Sr. High "Shrek The Musical" as Assistant Director and Wardrobe Assistant and now is involved with Fandango's "Into the Woods" as both Assistant to the Director and Wardrobe Assistant. Drake loves working in theatre along with the actors and behind the scenes crew.
Your Fandango Family would be lost without you Drake! We love you and wish you a great run with us, thank you for everything you are.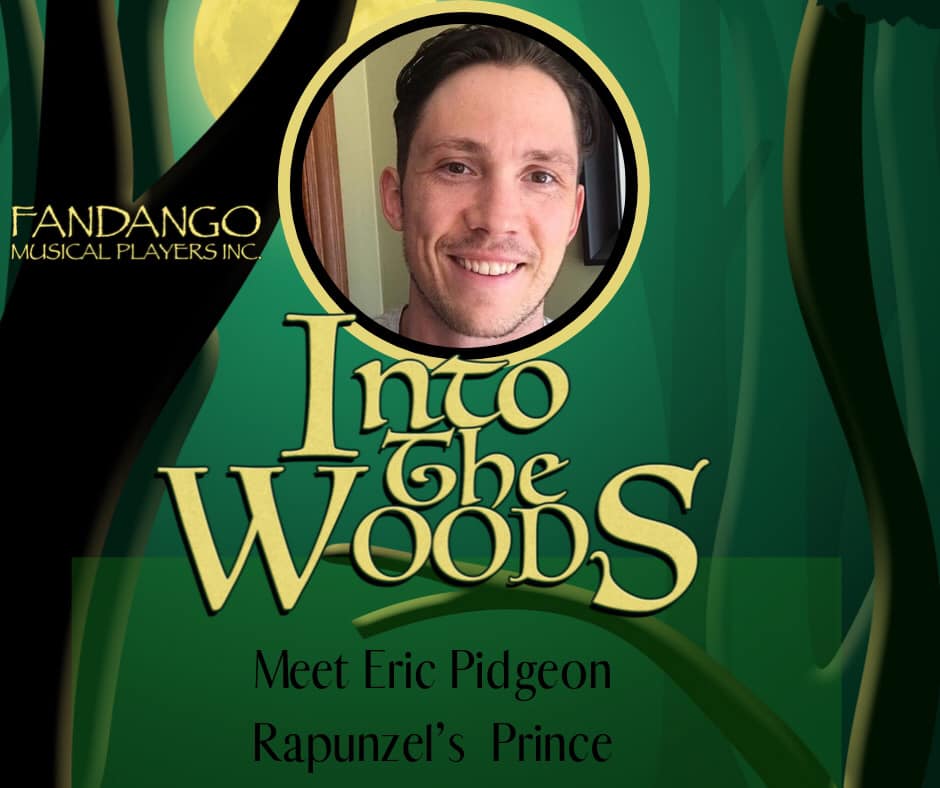 Eric L. Pidgeon
"Rapunzel's Prince"
Eric Pidgeon is extremely thrilled to be joining the cast of "Into the Woods"! A new musical production presented by Fandango Musical Players Inc. He will be playing the role of Rapunzel's Prince .
Eric first appeared on stage with the Fandango Musical Players Inc. In 2017. This was the musical production of "A Christmas Carol" where he portrayed the roles of young Ebenezer, Old Joe, Charity Man, and the poulterer. He may be best known for playing Jerry Seinfeld in a skit show presented by Raised on Television productions at the Guild Theatre in Charlottetown. Last year Eric was cast as part of the College Of Piping and Celtic Performing Arts summer production of "Great Scott". He later returned to the stage at the College of Piping- this time with Fandango Players Inc. in a new musical comedy "Sister Act" The Musical where he played the role of Sweaty Eddie. In the spring of 2019, Eric was cast as the main antagonist Lord Farquaad in "Shrek: The Musical Jr" Presented by the drama class at the Three Oaks Senior High School.
Performing has always been a large part of his life, and a deep love of film & television has opened up the exciting new world of the performing arts to him. Eric would like to thank his family for loving and supporting him and allowing him to chase his dream. He also credits Shirley Cameron and Tanya Bernard for fostering his musical talents.
We wish all the best Éric! ❤️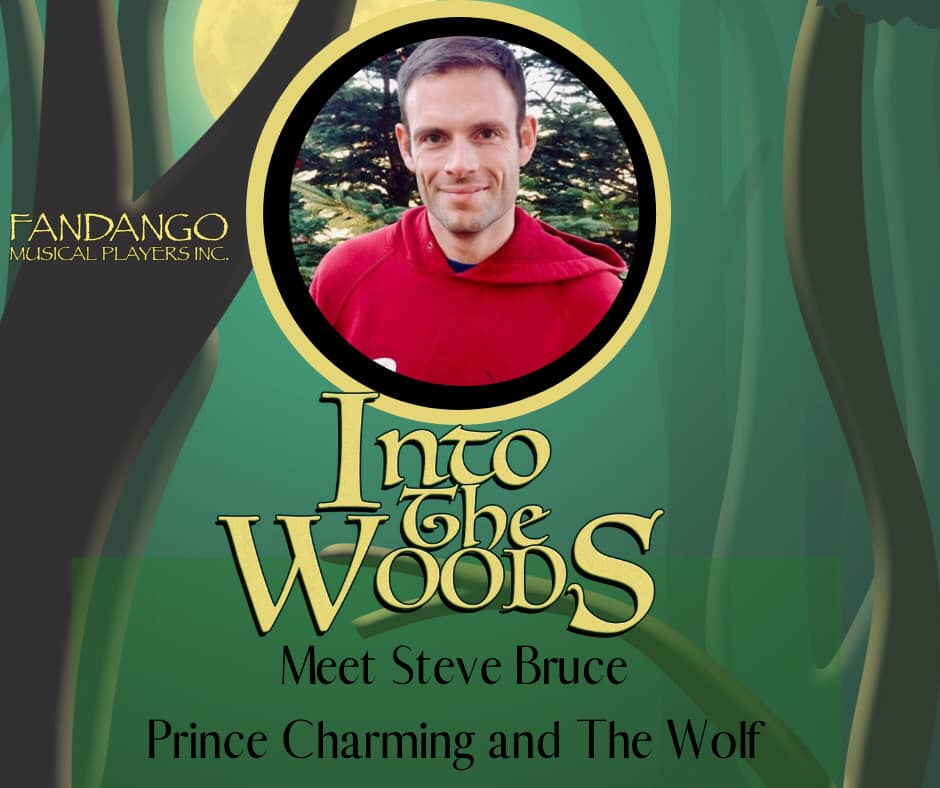 Steve Bruce
"Into The Woods"
Prince Charming and the Big Bad Wolf!
Steve is pumped to return to the Fandango stage after a brief hiatus to raise a couple of tiny humans. Now that those tiny humans are two and three-and- a-half years old, and perfectly able to take care of themselves, Steve is ready to shift his focus from fathering to playing a creepy wolf and entitled prince.
Steve got his start with Fandango in (what year was that?!!), playing the role of Gaston in Beauty and the Beast. Wanting to prove he's a better person than the character he portrayed in that show, he then moved on to play 'Jesus' in Jesus Christ Superstar. He also played Seymour in ACT's production of Little Shop of Horrors.
When he's not on stage or working his day job as a reporter with CBC, Steve loves playing squash, running, spending time with his kiddos, then putting them to bed and opening a bottle of wine. He's super grateful to his amazing wife and wine-drinking partner Kady for taking on all the solo parenting duties while he's rehearsing for Into the Woods, and to the all star Fandango team for making this fantastic show a reality!!
We are so happy to have you join us once again! All the best to a magnificently talented man!❤️
More Cast Bios Coming Soon!